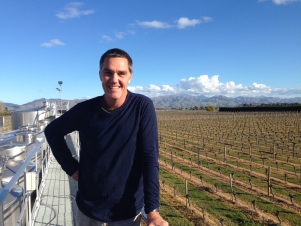 by Nick Winter
Viticulturist
Allan Scott
The end of June each year is the end of the Sustainable Winegrowing New Zealand (SWNZ) season.  At Allan Scott Wines we are always looking to the future through sustainable eyes.
We are very conscious we must look after the environment so that future generations still have sound possibilities for continuing growth.
Allan Scott Wines vineyards first became accredited under SWNZ in 2007, with the winery following in 2008.  A part of SWNZ is about measuring and monitoring soils. We soil and leaf test each year so we can track how the soils are changing, or not, from year to year.  You must measure something to be able to manage it properly, that's why we test annually.
Our soil sampling involves taking soil plugs representatively from a vineyard and sending them away for testing.  Based on the results we will receive an appropriate fertiliser recommendation.
Once the recommendations are sorted we arrange for Suspension Fertiliser to be applied. This is also a chance for us to add in a Biological product called Mycorrcin. This is aimed at stimulating the beneficial micro-flora in the ground. Having a biologically active soil means the fertiliser that is being applied will be utilised better and more efficiently and be more readily available to the plants.